This will be an off the top of my head report since I didn't take notes during our trip. It will also be divided into sections, since I tend to be long winded and you can skip to what you are interested in.
Prologue

Originally we were to take this vacation in June 2002. I started planning in Aug. 2001 with the first thing on my list being to take a "Fear of Flying" class. At the time, I was 35 and I had NEVER been on a plane. I had my itinerary planned out and I actual made a few reservations. Then came 9-11-2001. The world changed & everything changed for me as well. Plus there were a few other obstacles in store for me. I had a heart attack in Feb. '02 & another medical scare in Mar. of the same year. In Mar. 03 I had a pre-cancerous 13 cm cyst removed along with my uterus. With all these things happening, I realized that life is too short and that I had to live my life to the fullest. I don't want fear to stand in the way of my seeing everything that I want to see & experience.
Fast forward to 2005 and Danny decides to take me to Vegas & Arizona for my 39th birthday. I got on the plane cold turkey with only an Ativan that didn't work. A little bit of tears here and there, but I did well. Plus, I was ready to resume planning our Great California Adventure! I mostly reserved everything, including airfare by February. Danny just does not realize how much money I save him!
Dates: June 14 – June 30, 2006
Cast: Me 39, Danny (DH) 39, Kari (DD) 16 & Kat (DD) 17
Flight: American Airlines Miami to San Francisco & LAX to Miami ($1400)
Car: Chrysler Town & Country from Dollar Car Rental ($502 total for 2 wks & 2 days inc.taxes & fees)
Stops: San Francisco, Yosemite, Monterey, Cambria, Anaheim, Hollywood, and Manhattan Beach
So with all that out of the way, on with the show!
We took the 7:45 AM non-stop flight out of Miami. My girls and I are pretty good about not over packing. My husband on the other hand is totally clueless! Although I always stressed to pack light, he totally ignored me. So in a way, I was secretly happy when they charged us for an over-weight bag. It was only 7 lbs over but they charged $25. Anyhow, hopefully there was a lesson learned. Especially since he didn't use ½ of what he took.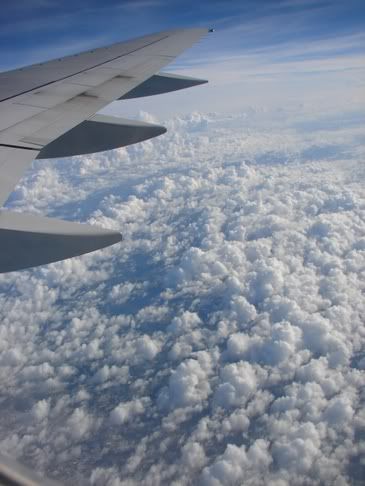 Fortunately, we had a smooth & uneventful flight with very little turbulence.
We arrived at SFO around 11 AM and proceeded to the car rental counter after getting our bags. We had originally reserved a Dodge Magnum but they didn't have any available so they were going to give us a Taurus. We had 2 large bags (one over-weight), 1 large rolling garment bag, 2 20 in. rolling bags, and 2 laptop bags. That's not counting our personal bags. So they offered us a luxury Chrysler 3000 for $10 a day more. If it had been just DH & me, we would have gotten it. But we settled on the Town & Country for $5 a day more. We had tons of room! And since we would be in the car quite a bit, it worked out well!
We also purchased 3 day Muni passes ($18 each) at the airport. We didn't plan to use the car much in SF and considered getting the rental on our last day but it would have cost us more to hire a cab to our hotel then back to the rental place. So we just rented it from the 1st day because we had free parking at the hotel anyhow. Confused yet? I will start with San Francisco in the next segment!