San Francisco
Day 1-3
We picked up our car and went in search of our motel. Yes motel. Although the girls & I are certified hotel snobs, all the places we stayed at were all motels. We are really picky about where we stay and I am happy to report that we enjoyed each one.
We arrived at the
Nob Hill Motor Inn
in the Russian Hill neighborhood at approx. 1 PM. The innkeeper checked us in but informed us that our room was not quite ready. He gave us a map of the city and crossed out areas that we might want to stay away from. This was greatly appreciated, especially since we had our girls with us. We went ahead and took a walk around the area and walked to the wharf area to get some
In-n-Out
. I LOVE In-n-Out burgers!
We returned to the motel at 4:30 picked up our keys and went to check out our room. The room was HUGE! We had a Junior Suite w/ 2 queens & a pull out single. It included FREE parking, FREE wireless Internet, FREE continental breakfast (very basic but enough for us), a fridge & microwave. The motel is older but the room was super clean & 100% non-smoking! On top of all that, it is in a great location.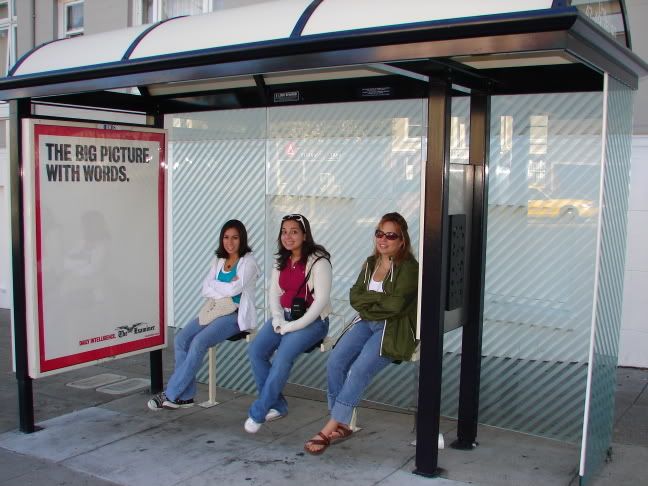 About ½ block to the bus & streetcars and about 2 blocks to the cable car stop. I have never used public transportation here so it was a new experience for me.
We made our way back to the wharf area after resting up a bit. Around 6PM or so it got really cold and windy. We had packed a couple of jackets but we each ended up buying a heavier reversible jacket as well. They are sold at almost every store for $20. We decided to take the cable car back so we waited in line across from Ghiradelli's for about 45 minutes. We later realized that we could catch a cable car at other stops with little to no wait. I don't now if this is the norm, but we never made a line for a cable car after the first time. Actually, I think we rode the cable cars about 8 times during our trip. We also used the streetcars & buses. The 3-day
Muni
is $18 and we got our money's worth.
On our 2nd day we went to
Alcatraz
. I had purchased my tickets online a few weeks earlier from
Blue & Gold Fleet
, they are the ones listed on the National Parks website. They are on Pier 41 and you pick up your tickets at Will Call. Note: There was a long line to pick up your tickets. There are about 4 machines out front where you can swipe the credit card you used to purchase your tickets and it will spit them right out for you.
The audio tour is very interesting. And the views of SF are amazing! It's neat to do once although I may also like to do the night tour one day. After Alcatraz we had lunch at Boudin's Café at the wharf. Excellent chili & OK clam chowder in sourdough bread bowls and sandwiches. Then we just did the typical tourist stuff. After our showers we ended up at Ghiradelli Square. Had dinner at
Lori's Diner
. Just OK, typical diner stuff. If you go, be sure to print out the 20% coupon from their site http://www.lorisdiner.com/home.html .
We of course had dessert at Ghiradelli's.
On our 3rd day we took out the car! We drove to
Muir Woods
and then spent a couple of hours in
Sausalito
before returning to the hotel to shower for dinner. Oh and on the way back my DH insisted on driving down
Lombard St
. Beautiful homes along this street but I can't imagine living there. Kat is really into Japanese culture so we went to
Japan Center
to have a look around. Not much really. She found her good luck cat plus we bought some candy & Pocky. We had dinner at Benihana (not very Japanese, I know) then took the bus back to the motel.
All in all a nice time in SF. Yes, a lot of homeless people begging for money but it's the same as most big cities. We stayed in the areas recommended by the innkeeper and we had no problems at all. The weather fluctuates a lot so dress in layers, we came somewhat prepared but still ended up buying jackets because our thin Floridian blood could not handle the cold. We did A LOT of walking on non-flat surfaces and it did a number on my knees but then again the most walking I do is on the treadmill and at the mall! Plus I am carrying a few extra pounds that should not be there.
We also had some food at Nicky's Pizzeria Rustica, yummy pizza $3.50 per square slice. I had the caramelized onion and pancetta pizza and it was delicious.
And Polker's Gourmet Burgers, we split a burger & chicken strips w// fries & rings. Everything was very good. Both these places are near our motel on Polk Street. Nothing fancy just good food.