I have been lazy this entire weekend! We had my family over on the 4th for BBQ & Pool fun. Yeah, right. Pool fun lasted for about 1/2 hour. BBQ turned into George Foreman. Pool fun turned into Wii Fun and the mess ended up
inside
the house. Stupid rain. Total wash out!
We spent the entire day at home yesterday and we seem to be leaning towards the same for today. Bor-ing! So what's a girl to do? I'm on my laptop. Blog hopping. Downloading elements for my new hobby that I have yet to actually do much with, just like my paper hobby. Ebay, looking for an external storage to accomodate my new hobby which I'm not doing much with except collecting. Pretty much like the paper hobby too. Hmmmm...
Oh, and of course, I'm entering contests!
Over at Jackie's Thouhts, you have the opportunity to win a great package from the
Sun Protection Zone
. Living here in Miami, you know that sun protection is a must!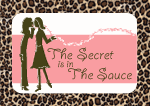 Run! Don't walk for your chance to win $100 GC to my home away fro home. Target! Be sure to let them know I sent ya!
Head on over to
Go Workout Mom
for a chance to win a $20 GC to
Smoothie King
. Yum!
That's it for now. I'll post more if I come across more.