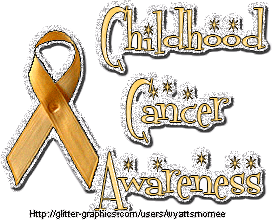 Today is National Childhood Cancer Awareness Day. Actually, September is N.C.C.A. month. In my opinion, every day should be awareness day. Every single day children go through the unthinkable. Procedures that we as grown ups may not be able to handle.
Please support me in fighting Childhood Cancer
During the month of September I will be participating in the CureSearch Virtual Walk for 12,500 to Conquer Childhood Cancer!
By joining my team, you will be helping to find a cure for childhood cancer - Follow this link to donate now -Lissete's Page
The Virtual Walk for 12,500 is an online effort to unite people in the fight to reach the day when every child with cancer can be guaranteed a cure. During the month of September our goal is to bring together 12,500 people in honor and support of the 12,500 children diagnosed with cancer each year.
This cause is so important to me because although I have been blessed with two healthy daughters, I am not blind to what is going on around me. I want this disease to be conquered to give children a long, healthy life and possibly ensure the same for future generations. Childhood cancer research is the key to finding a cure for so many children that are diagnosed with cancer.

Participating in the Virtual Walk for 12,500 is a way for me to make a difference in a child's life. I am writing today to ask you to sponsor my virtual walk. It's very easy to help. You can donate securely online right now by clicking the link below.
Every $10 donation counts and, I truly appreciate your support!

All proceeds will go to CureSearch to support lifesaving research conducted by the Children's Oncology Group, the world's largest pediatric cancer research organization.
Thank you for your support!