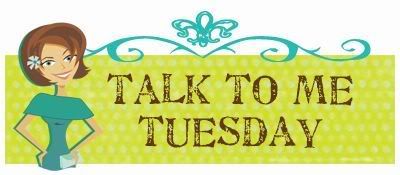 Tip Junkie is hosting Talk to Me Tuesday. I am supposed to post my Top 10 Favorite Things in my Home, and pictures mandatory. It's supposed to be about home decor but most of my favorite things have nothing to do with decor. As you will see, most of my house is very traditional in style right now. I am going in a totally different direction once we move into our beach house. What beach house? you ask. Well, the one that we will be buying soon when we win the lottery! So, in no particular oorder, here are my top 10 favorite things in my home.
Not in my home but my backyard is part of my home. I love to read either in the gazebo or on the hammock. This is normally enjoyed when it is not 100 degrees in the shade.

My craft room. Nice thing about this room is that my red couch folds out into a bed. So when D's snoring gets to be too much, he gets kicked out to this room. Eventually, he'll agree to a C-pap. I'm not going to be the one that leaves my comfy bed!
Which brings me to ...Our comfy bed. I LOVE my bed. Super comfy,no springs, adjustable (up & down). Split mattress, so he can jump around all he wants and not disturb me. The noise is a diffrent story though. Ignore the window behind the headboard. I haven't decided how I want to cover it. I did want to close it completly, concrete or drywall whatever, but stupid building codes and all won't allow it. If there was a category for what I HATE, that would probably be #1!
This is a two part picture. First is the TV in my room. I can watch my shows without anyone switching channels every two minutes. The remote is MINE! Plus I don't have to sit through football. The other thing is my DVR. I do not know what I ever did without it! Actcually there is a third part as well, McDreamy!
My mixer. Oh, how I love this heavy as heck time saver!
My curio with my egg collection. I have been collecting eggs for about 15 years now.
My upstairs curio with my little collections, which are not quite big enough... yet. Tiny boxes, decorative boxes, & perfume bottles. I also have one 19th c. Moser Chabochon dresser jar that I found at an estate sale for $40 and have seen similar ones go for over $400 SCORE!
My WiiFit. It calls me fat & body builder all in one day!
I actually got these from an antique store. I LOVE these Jacobean pieces. They weigh a ton. Ilove the carvings and the detail.
Roomba! Let her go when we go to bed, wake up to clean floors!
OK, this is 11. But I can't live without this when everyone in the house is freezing and I'm still HOT!